At the Pembroke Center, real-world questions and commitments are integral to our scholarly and research mission. Since 1981, scholars at the Pembroke Center have interrogated the underpinnings and history of the categories used to differentiate individuals and groups—including gender, sexuality, race, ethnicity, religion, nationality, citizenship and class—and how those categories intersect. In 2020-21, the impact of those forms of difference on daily life were brought into sharp relief as our global and local community contended with the continuing Covid-19 pandemic and efforts to reckon with systemic racial injustice against a backdrop of political polarization; misinformation; health, labor and economic inequities and climate crises.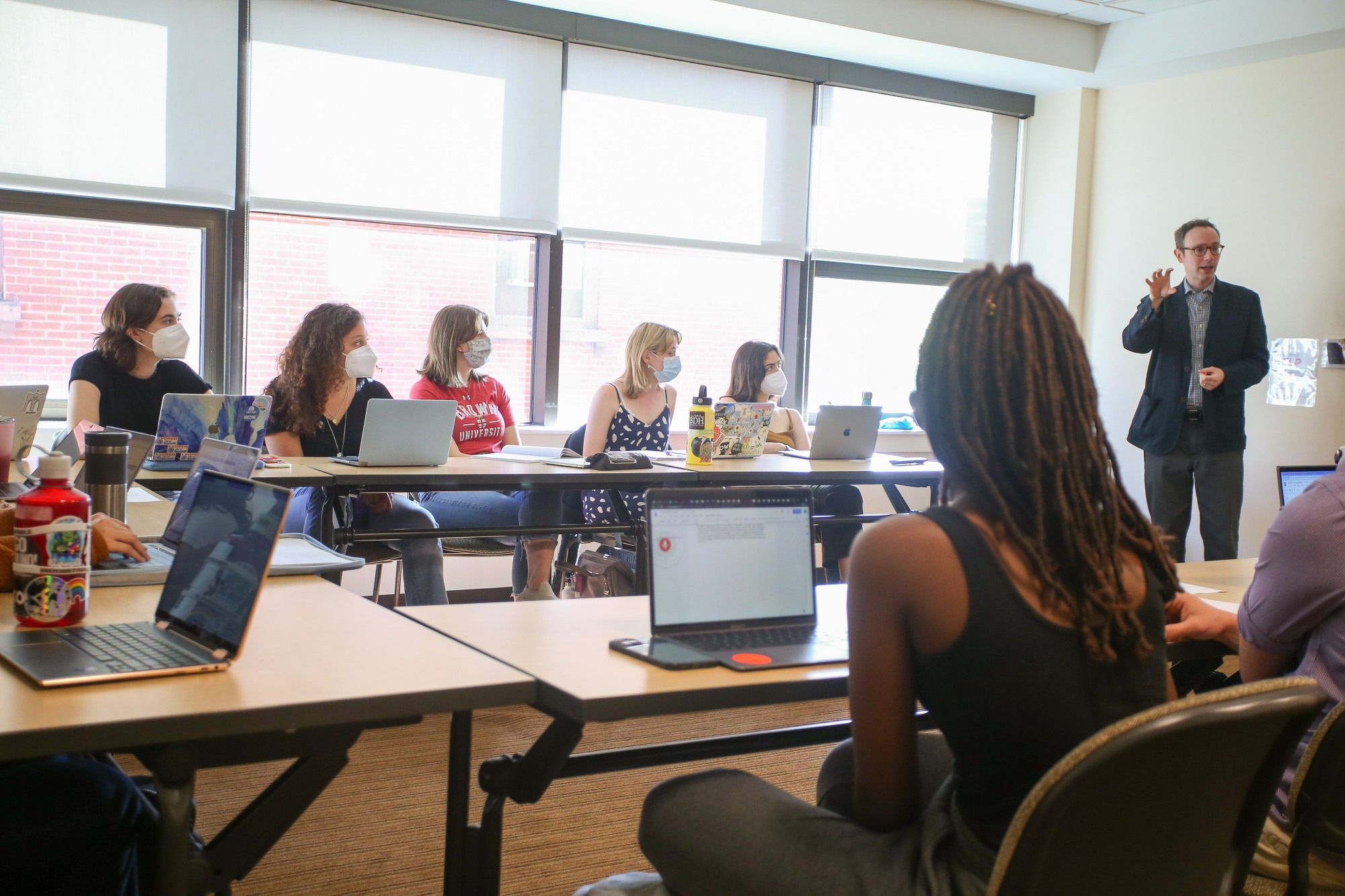 To prioritize the health and safety of our community, the Pembroke Center adopted virtual and hybrid programming and teaching formats. We were particularly concerned about our students' well-being, resources, and learning and living environments as they adapted to a virtual or hybrid classroom experience, and we strove to support all of our students, including our international and graduate students whose travel, research and teaching plans were altered by visa, travel and other restrictions.
The many ways our community came together were encouraging and inspiring, and we are grateful that we were able to engage meaningfully with our vibrant network of student, scholars and friends, and endlessly impressed by their seriousness of purpose and perseverance.
2020-21 at a Glance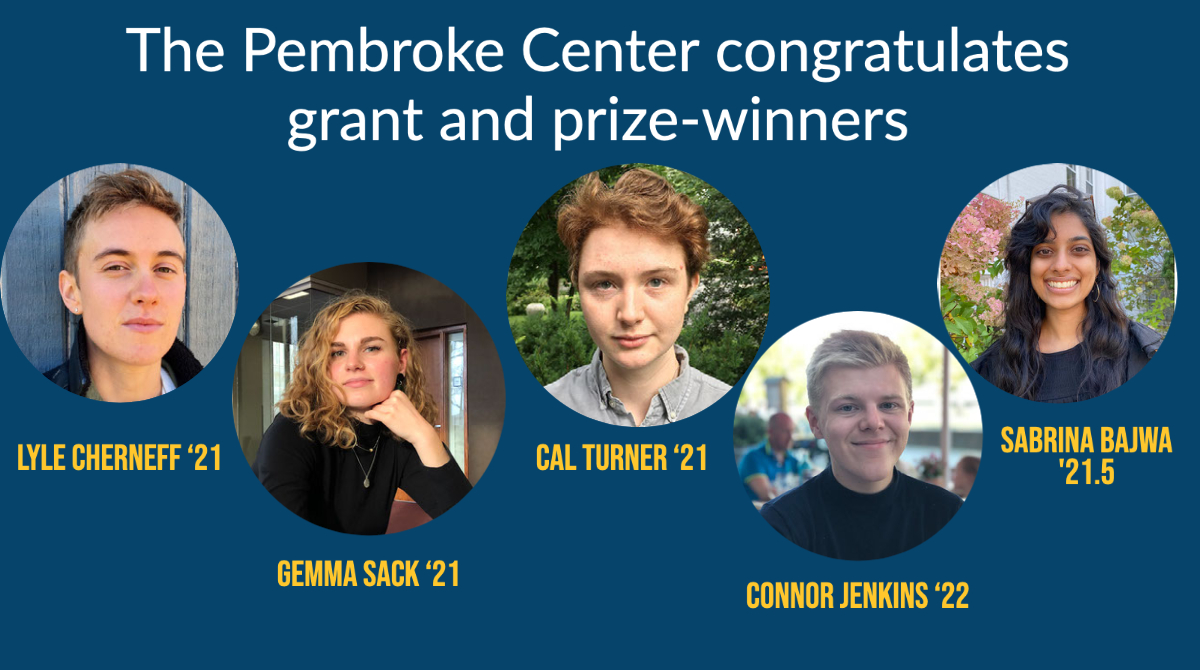 Undergraduate students in the Gender and Sexuality Studies Program (GNSS) showed tremendous commitment and dedication to their scholarship and research in the 2020-21 academic year, despite the constraints the pandemic placed on the University's operations. Students from across the University enrolled in the 12 GNSS courses the Pembroke Center offered last year and explored the construction of gender and sexuality in social, cultural, political, economic, and scientific contexts. Students examined how gender and sexuality intersects with public policy, how trans and feminist movements interrelate, how sexual commerce can help shape the cultural identity of a city, how issues of gender, sexuality and difference relate to financial practices, and much more. In their theses and via grants, GNSS students and concentrators broke new ground with research projects on race, power, and family-making; American nationalism in women's magazines; and the relationship between reproductive justice and citizenship, among other topics.
Graduate students in the GNSS certificate program gained specialized professional training in critical methods informed by feminist, queer, trans, and intersectional approaches to difference and participated in a community of scholars dedicated to advancing current conversations in GNSS and developing theoretical frameworks. Whitney Arey, who completed her PhD in the Department of Anthropology at Brown in 2021 with a graduate certificate in Gender and Sexuality Studies, won the Marie J. Langlois Dissertation Prize for "Abortion as Care: Affective and Biosocial Experiences of Abortion Access and Decision-Making." Katherine A. Mason, Vartan Gregorian Assistant Professor of Anthropology and Arey's advisor, described the dissertation as "a transformative account of abortion in the US." Dr. Arey is now a postdoctoral scholar at the Population Research Center at the University of Texas at Austin.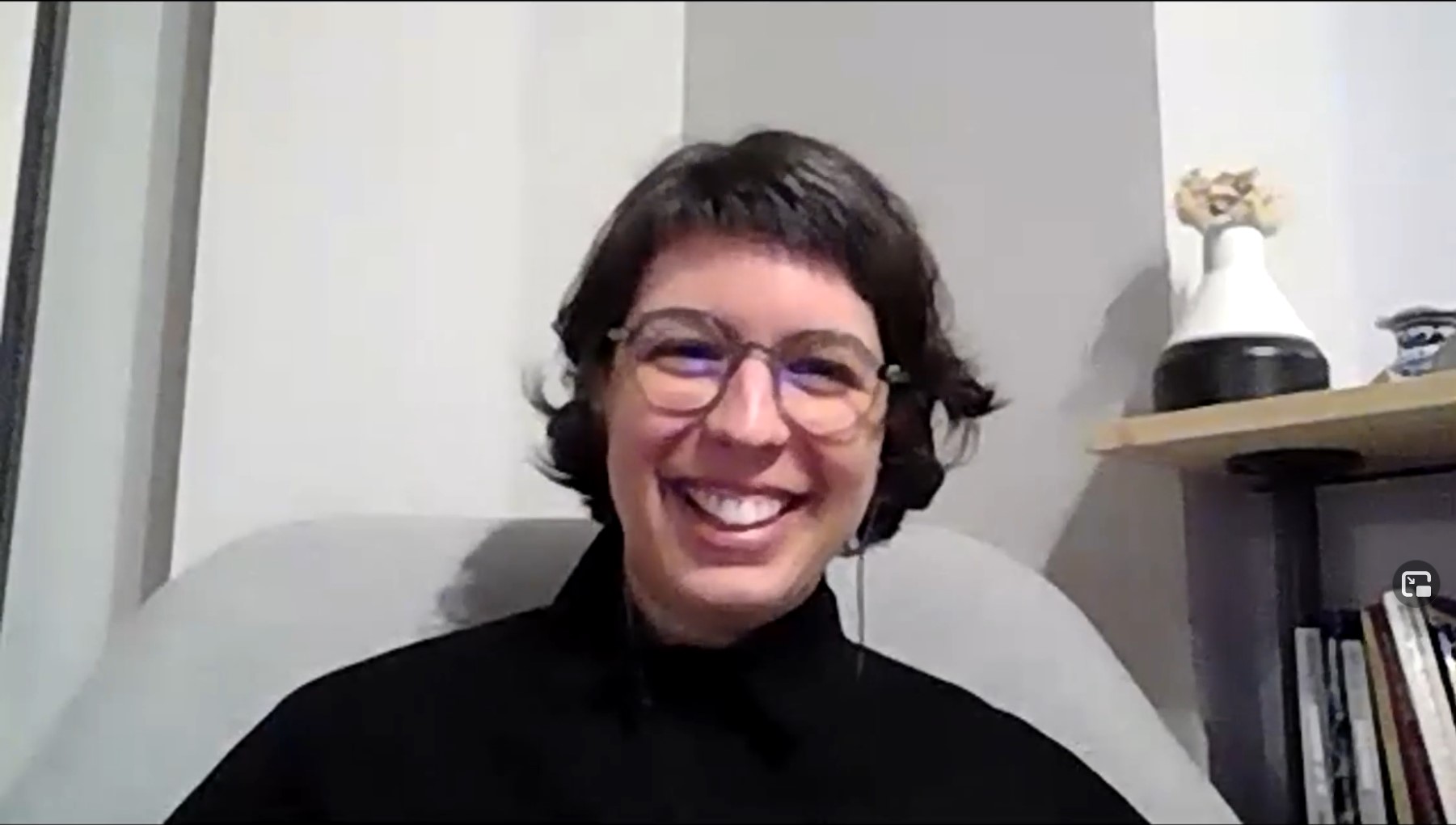 The three 2020-21 Pembroke Center postdoctoral fellows infused our scholarly forums with fresh perspectives and our curriculum with three new courses.They were inventive in adapting their teaching to virtual formats and, as emerging scholars as well as instructors, bridged generations within the Pembroke Center community. The postdoctoral fellows also convened the research roundtable "Unsettling Accounts: Intersectional Approaches to the Politics of Debt," which examined the politics of debt within the histories and contemporary processes of racial capitalism, dispossession, colonialism, and gender oppression. The roundtable extended the discussion of the yearlong Pembroke Seminar and featured presentations by cutting-edge thinkers like Rocio Zambrana, Sarah Muir, Joanne Meyerowitz, Neferti X. M. Tadiar, Denise Ferreira da Silva, and Cheryl I. Harris. 
differences: A Journal of Feminist Cultural Studies is a leading forum for exploring theoretical debates that address the ways concepts and categories of difference operate within culture. Across three issues published in 2020-21, in essays contributed by scholars from all over the world, the problematic of differences was explored in a wide range of contexts. The journal connects aspects of the Pembroke Center's scholarly, teaching, and research mission, and last year it published an issue guest-edited by Peter Szendy, convener of the 2020-21 Pembroke Seminar, that expanded the discussion of the central questions of the seminar and drew on work housed in the Pembroke Center Archives.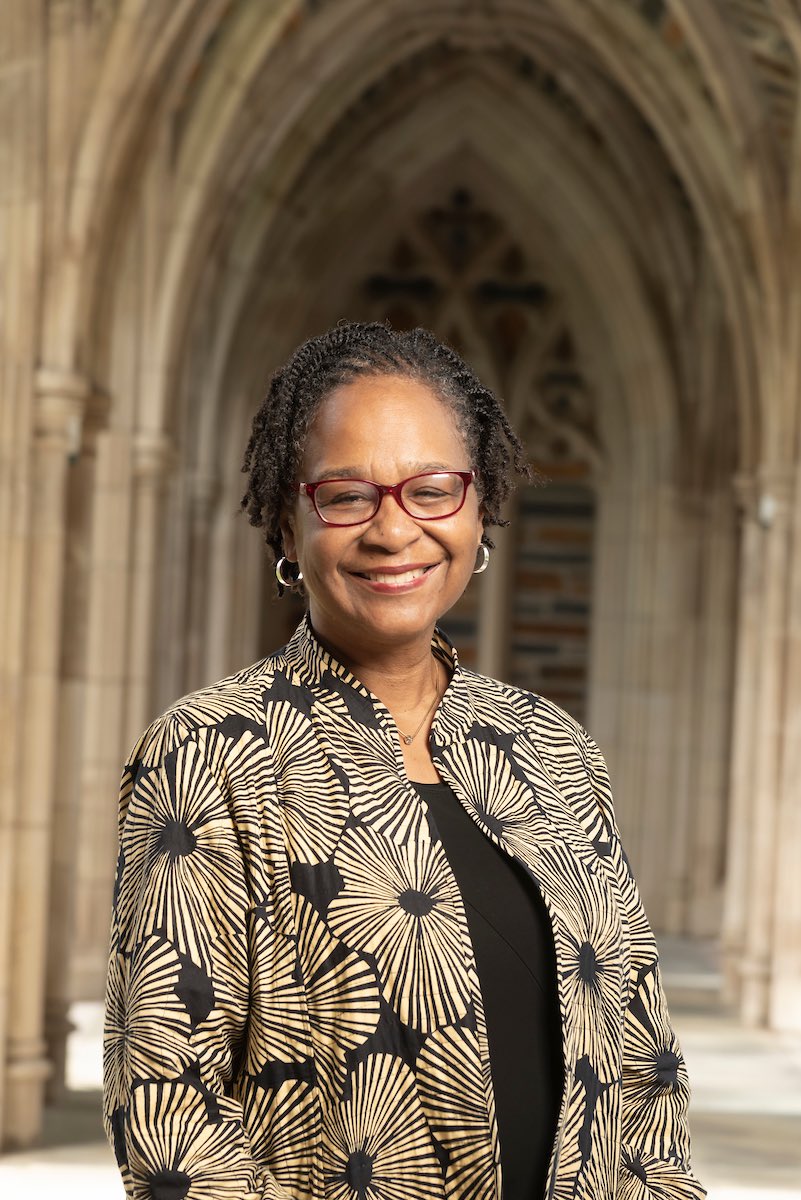 Our broad network of scholars continued to contribute to and utilize the Pembroke Center Archives. In 2020-21, despite the challenges presented by limits on on-campus work, the Pembroke Center Archives added and processed a number of new collections, including, notably, the papers of the late Cheryl A. Wall. Wall was the Board of Governors Zora Neale Hurston Professor of English at Rutgers University, where she dedicated much of her almost 50-year career advocating for racial diversity in the curriculum and in universities as a whole. She pushed for the inclusion of Black authors in literature courses and established a requirement at Rutgers that all English majors complete a course in African American literature. Wall's daughter, Camara Epps, reached out to the Pembroke Center Archives shortly after her mother's passing in 2020, and staff worked to ensure that Wall's wishes about her papers were honored. Wall's papers are now available to researchers and the publics via the Feminist Theory Archive, where they are part of the community of collections given in the name of the Black Feminist Theory Project.
Individuals from all over the world and all walks of life shared their stories—about timely, sensitive topics including the impact of the pandemic on daily life, the 2020 protests against anti-Black racism, the rise in violence against Asian American and Pacific Islanders and more—with the Pembroke Center Oral History Project.
The Friends of the Pembroke Center were steadfast throughout the 2020-21 year, joining us for and participating in our virtual public programming. Pembroke Center Advisory Council Member Tanya Katerí Hernández '86, P'20, the Archibald R. Murray Professor of Law, Fordham University School of Law, moderated our October 2020 event "Black Women and the Vote," which focused on Black women's political engagement and activism, from suffrage to movements for racial and gender justice. Council member Marcia R. Ely '80, director of programs at the Center for Brooklyn History, moderated our January 2021 panel "Complicating Beauty: A Look at How Women Look," in which five distinguished Brown alumnae and faculty explored the idea of beauty: how and why it changes over time; the unique role of the beauty pageant; and the ways that society's morphing definitions of "a beautiful woman" collide with race, class and gender.
The Friends of the Pembroke Center have supported the Pembroke Center's intellectual mission over the last four decades, and in 2021, Pembroke Center Advisory Council Member Shauna M. Stark '76 P'10 honored that collective effort and emphasized the importance of the center's work by making a historic gift: Stark established the Shauna McKee Stark '76, P'10 Directorship of the Pembroke Center, endowing the leadership position and ensuring the Pembroke Center's permanence on campus.
Leadership Transition and New Endowment
In June 2021, Suzanne Stewart-Steinberg completed her second term as Pembroke Center director. During her tenure, the Pembroke Center's postdoctoral fellowship program and research agenda sustained and developed their internationally renowned reputations, and the Pembroke Seminar functioned as a forum that, like differences: A Journal of Feminist Cultural Studies, represents the leading edge in feminist critical studies. The Gender and Sexuality Studies program (GNSS), which equips undergraduate and graduate students across the University with the tools to examine the complex ways that "differences" are produced culturally, politically, and epistemologically, grew, and GNSS students demonstrated, through their excellent work, how they use GNSS to advance knowledge. Additional capacity at the Pembroke Center Archives helped it become a research destination for scholars from the U.S. and around the world, and the Pembroke Center's public programming is recognized as contributing to both theoretical feminist discourse and public conversations about feminism and forms of difference.
Stewart-Steinberg had the great good fortune to bring her terms as director to a close knowing that the Pembroke Center would continue on newly stable footing thanks to the endowment gift made by Shauna M. Stark '76, P'10 and she was delighted to welcome Leela Gandhi, John Hawkes Professor of Humanities and English at Brown, as the inaugural Shauna McKee Stark '76, P'10 Director of the Pembroke Center.