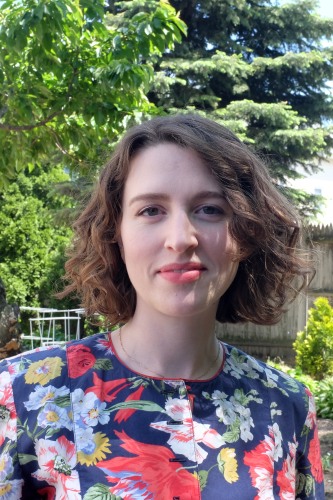 Claire Grandy
Visiting Assistant Professor of Gender Studies
Claire Grandy is a 2021-22 Dean's Faculty Fellow and Visiting Assistant Professor of Gender and Sexuality Studies.
Dr. Grandy earned her PhD in English from Brown, along with a Graduate Certificate in Gender and Sexuality Studies, in 2021. Her research focuses on 20th century and contemporary North American literature and visual culture, with an emphasis on poetic forms and archival praxes. She recently defended her dissertation, "Photo-Poetics: Documentary Forms from William Wordsworth to Robin Coste Lewis," which charts the history of documentary poetry back to British romanticism, alongside the rise of photographic forms of perception. Informed by critical race studies and feminist theory, this project studies how poets expropriate language from public documents to theorize how technologies of recording and reproduction work to typify people. Her writing has appeared in Contemporary Literature, European Romantic Review, and Criticism. She also served as an editorial proctor for differences: A Journal of Feminist Cultural Studies.
In the fall of 2021, Dr. Grandy taught the GNSS course "Documenting the Feminized Body: Literature, Photography, Science."
In the spring of 2022, Dr. Grandy is teaching the GNSS course "Recording the Self: Gender Between Word and Image." This seminar examines aesthetic approaches to self-writing and self-recording in literature, photography, film, comics, and online media. Students will theorize how these genres of self-documentation have become gendered, as well as how race, gender, and sexuality shape identity formation and self-observation. Rather than presume a coherent identity or "inner self" that is expressed through these works, we will consider how the self multiplies, blurs, fragments, or becomes divided through the meta-biographical process of self-recording. Exploring the various ways that text and image refract and relay in unexpected directions, the course will investigate self-referentiality as an ongoing temporal problematic, rather than a simple reflection.