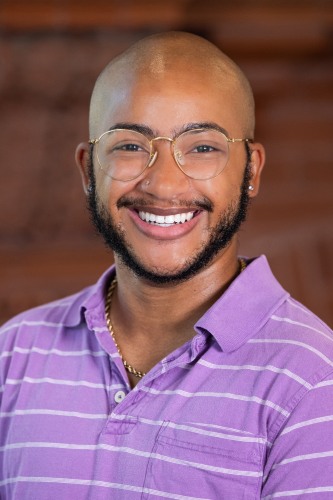 Amira Lundy-Harris
Nancy L. Buc '65 '95 LLD hon Postdoctoral Fellow
Ph.D. Women, Gender, and Sexuality Studies, University of Maryland, College Park, 2023
Dissertation: "Like I'm Kin to Him: Black Trans Publics, Relational Bonds, and Collective Creation"
Amira Lundy-Harris is the 2023-24 Nancy L. Buc '65 '95 LLD hon Postdoctoral Fellow. Their scholarship is situated in the emergent field of Black trans studies, to which they bring a deep engagement with Black feminist thought and an interdisciplinary methodology drawn from kinship studies, digital studies, public spheres theory, communication, and cultural studies. They received their Ph.D. in Women, Gender, and Sexuality Studies from the University of Maryland, College Park in 2023 and their BA in Black Studies and Sexuality, Women's & Gender Studies from Amherst College in 2016. Their current book project explores Black trans people's creation and cultivation of kinship bonds. Their work has appeared in TSQ: Transgender Studies Quarterly.
In the fall of 2023, Dr. Lundy-Harris is teaching the GNSS course, "Black Trans Studies," which introduces students to significant strands of thought in the field. Some suggest that the scope of Black trans studies is too narrow; this course seeks to illustrate otherwise. As Susan Stryker argues, "the field of transgender studies, far from being an inconsequentially narrow specialization dealing only with a rarified population of transgender individuals, or with an eclectic collection of esoteric transgender practices, represents a significant and ongoing critical engagement with some of the most trenchant issues in contemporary humanities, social science, and biomedical research." Black trans studies offers a framework for approaching some of society's most critical topics. The course will explore intellectual genealogies that give rise to Black trans studies, trans narratives and the racialized history of medicine, coalition and community building, violence and policing, representations of Black transness, and debates about today's movement priorities.